IMPROVES YOUR TEAM IN ANY SITUATION.
NEW STANDARDS IN MIG-MAG WELDING.
COBOT WELDING FOR TIG APPLICATIONS.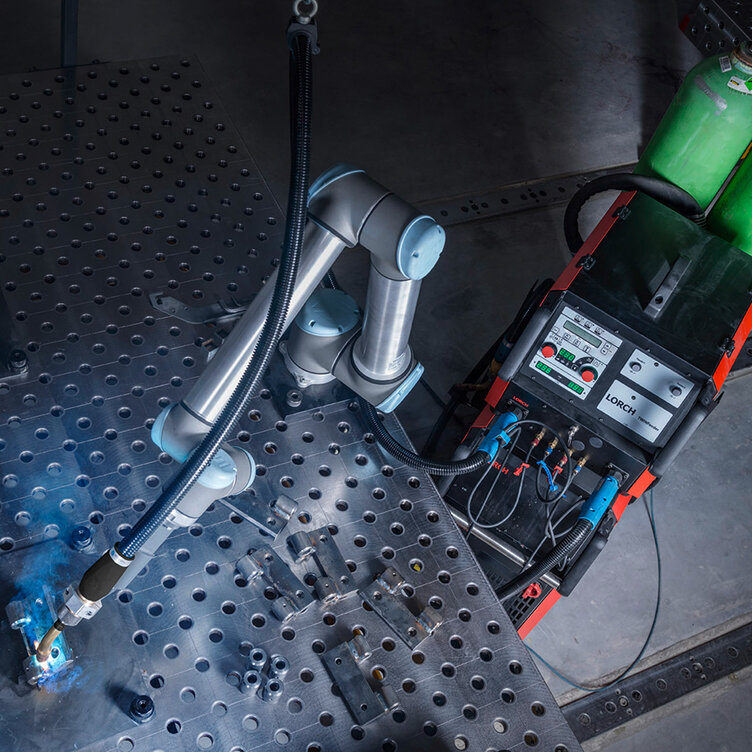 Lack of skilled labour, cost pressure, technology gaps.
Personnel resources depleted?
The supply on the market is exhausted, labour costs are surging. To satisfy the requirements of industry, companies are required to utilise their qualified, motivated and reliable staff in the most efficient way possible.
The Lorch Cobot Welding Package now lets you ease the workload on your employees and optimise the use of your personnel resources, giving the productivity and profitability of your company a significant boost.
Manufacturing at attractive conditions?
This highly contested market puts your company under enormous cost constraints. However, producing at low cost will not be enough to be competitive: the quality must be right as well.
The Lorch Cobot Welding Package puts you in position to be able to achieve consistent performance and reproducible outcomes of the highest quality. You will be able to minimise your cost by reducing the amount of rejects and rework and by automating your processes.
Investing in the future? 
One of the key challenges companies have to face: the decision as to where, how and in what they should invest, in order to prepare their business technologically for the tasks the future holds in store.
Benefit from the Lorch Cobot Welding Package as a means to future-proof your business, making it more attractive for young, tech-savvy talents and taking a practically oriented step towards Industry 4.0.
The simplest solution to your problems: Cobot Welding.
Cobot welding translates to collaborative robot welding for mid-sized businesses: quick, flexible and economical – a system made for the automation of small and medium batch sizes.
This type of welding automation leaves the welder in full control, while the robot executes the instructions precisely and exactly as given. Better still, compared to the much less flexible industrial robot welding, your investment costs are dramatically lower.
Offset the shortage of skilled labour
Lessen the mental and physical strain on your skilled workers: Skilled welders program the welding task, while semi-skilled operators complete the tasks with the Cobot
Productivity gains thanks to effortless operation and great versatility
Produce the necessary quantities with utmost efficiency and reliability
Assure quality, lower your cost
Consistent and reproducible welding quality - 365 days a year
Results of outstanding quality: less rework, fewer rejects
Sizeable savings in cost thanks to reliably high quality
Keep your finger on the pulse of the times
A simple step towards Industry 4.0
Enjoy high esteem as an attractive, future-oriented and ergonomic employer
Quick return on your investment costs
Our solution for you: The Lorch Cobot Welding Package.
Our comprehensive Lorch Cobot Welding Package affords you all the benefits of Cobot welding and offers an easy entry to the world of automation by providing you with innovative welding technology, intuitive software and exclusive services:
"The task of automating the welding processes was an absolute cinch. This installation will certainly not be the last Cobot to join our corporate family."
Learn more about the advantages of the various welding processes.
MIG-MAG welding process
Use the Lorch Cobot Welding Package MIG-MAG Edition to take the efficiency of your production to the next level: Our MIG-MAG Cobot is 3 x more productive than conventional manual welding processes and works without a break!
TIG welding process
The Lorch Cobot Welding Package TIG Edition lets you finish your welding tasks with highly appealing visual results and next to no effort.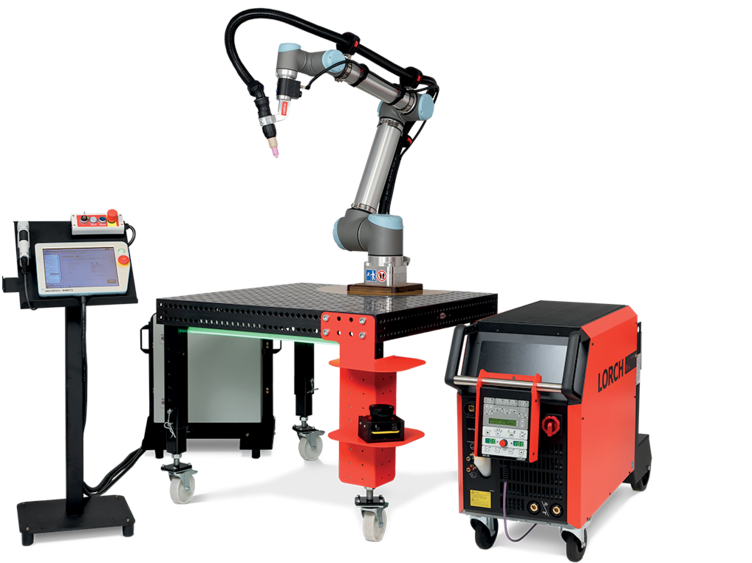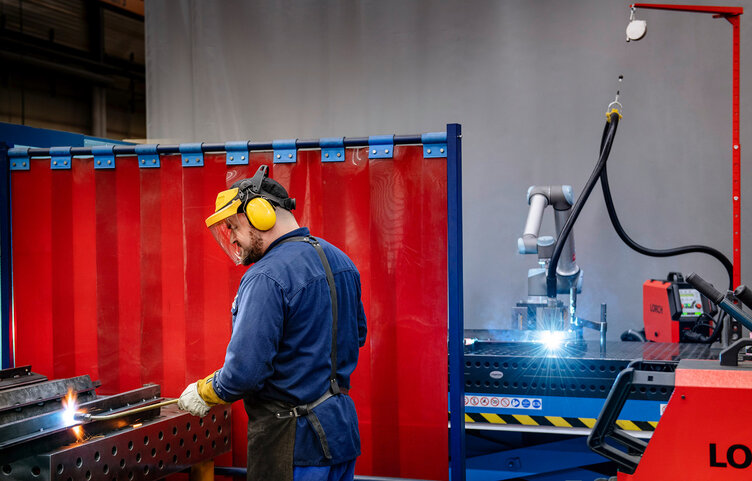 Would you like to make your team stronger?
Nothing easier than that thanks to the Lorch Cobot Welding Package! Our competent Cobot partners will be happy to assist you.
Quickly and easily find the right contact that is closest to you.
Download
Would you like to learn more about the Lorch Cobot Welding Package? Refer to our brochures for technical data and details on its applications and the scope of the included equipment: