THE LORCH COBOT WELDING PACKAGE
Cobot + Welding + Services
The all-inclusive package for automating small and medium batch sizes.
In addition to a Cobot, the Lorch Cobot Welding Package comprises everything you need to make your team stronger: Distinguished by its innovative welding technology and paired with our intuitive control and wide range of services, the Lorch Cobot Welding Package is the all-around carefree package for medium-sized businesses who wish to benefit from welding automation. Learn here about the contents of the package.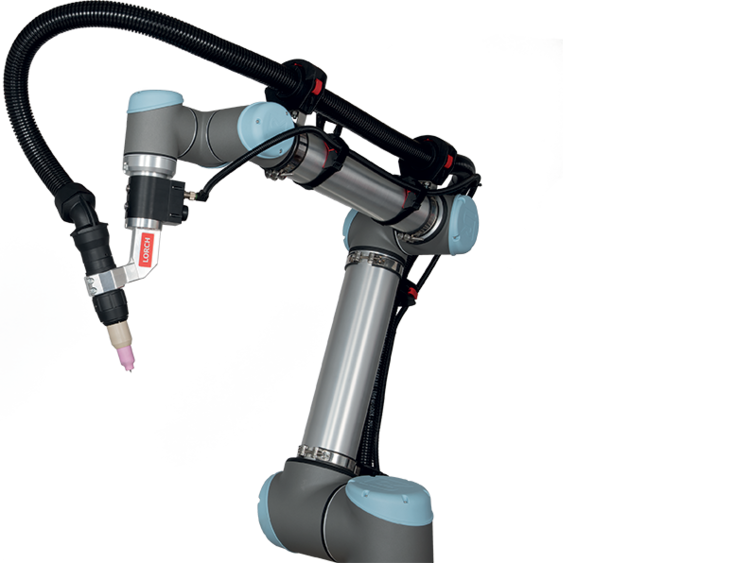 The Cobot UR10:
The Base
Made by Cobot market leader Universal Robots, the premium collaborative robot UR10 forms the basis of the Lorch Cobot Welding Package. It allows for direct interaction with human beings and delivers everything that is essential for welding business of medium size:
integrated welding technology
space-saving design
Intuitive user interface (12 inch touch screen)
extensive range
sufficient bearing load
low-maintenance technology
sophisticated technology
Welding Technology & Software:
The Heart and the Brain
Our Cobot Welding Package is the product of more than 60 years of concentrated welding expertise and combines our special Lorch Cobot torches with an abundance of experience in welding technology applied in automation and robotics:
The high-quality Lorch welding systems of the S-XT series for MIG-MAG welding with a Cobot and the V series, which comes with the Cobot Welding Package TIG Edition, produce top quality and deliver maximum synergy benefits when used in combination with the specifically engineered and intuitive Cobotronic software and the included welding equipment.
"It had barely been delivered when the robotic welding system already started working without a hitch, matching our requirements to a T: Offering flexible and dependable use, the system delivers the extraordinary welding quality our discriminating customers have come to expect from us." 
Personal Services: The Capstone.
Consulting
You are in the best of hands at our Lorch Cobot partners. They know exactly what to factor in when entering into the world of automated welding and will be glad to give you a personal consultation. Our experienced partners have demo systems that allow them to give you an up-close and personal introduction to all features.
Training including e-learning
We offer you highly efficient, hands-on Cobot training classes: at your location and on your actual shop floor. Our e-learning platform is the ideal tool for preparing and reviewing the lessons taught during the training. The platform provides up to 3 employees with 1 year of free access.
Service
Your Lorch Cobot partner will deliver your package directly to your business, put it into operation and give your initial instruction and training. Also, your Cobot partner will always be there for you to answer any questions you may have.
Financing
Your Cobot partner will gladly prepare an attractive financing offer for you that includes monthly leasing rates of approx. €1,200.00 (price level 11/2020).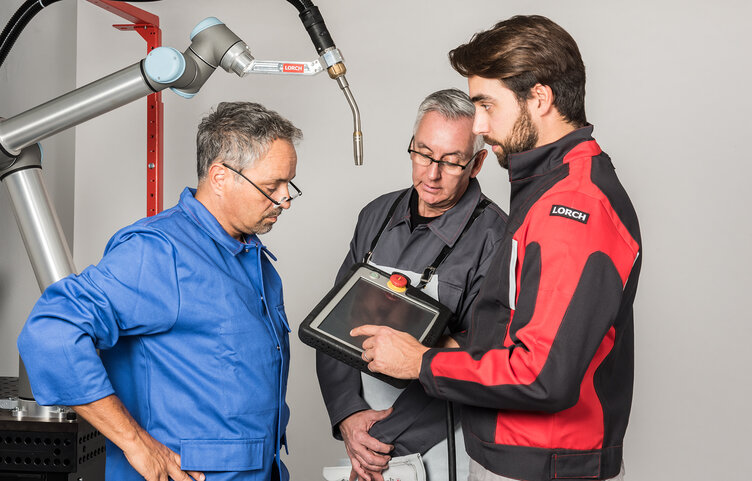 Would you like to make your team stronger with the help of the Lorch Cobot Welding Package?
Find the right contact that is closest to you.
Download
Would you like to learn more about the Lorch Cobot Welding Package? Refer to our brochures for technical data and details on its applications and the scope of the included equipment: